That word makes me feel so smart. Nom de Plume. Nom de Plume.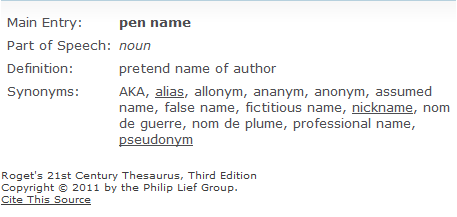 I also happen to like the definition of 'pen name'
I would have used 'pen name' but I already have a P topic.
Anyways, I have a nom de plume (*shudder* oh I love that lol). My name is not actually Jesi Marie, though that would be awesome. I have no issue with my real name or people knowing who I actually am, but I decided that if/when I get married, it would be easier not to have a last name on my books so I don't have to worry about changing it and all that jazz. So I picked Jesi Marie. Jesi is a family nick name that has stuck around since I was an infant basically, and Marie is my middle name.
And now... I have nothing else to say.
Anyone else got any pen names they want to share?